1. Outstanding Corporate Sustainability Professionals Award

1. Domestic Companies Achievement Group
2. International Companies Achievement Group
3. Universities Achievement Group

1. Growth Through Innovation Award
2. Transparency and Integrity Award
3. Supply Chain Management Award
4. People Development Award
5. Social Inclusion Award
6. Creativity in Communication Award



7. Gender Equality Award
8. Climate Leadership Award
9. Sustainable Water Management Award
10. Circular Economy Leadership Award
11. Information Security Award (NEW)
12. Best Sustainability Project Awards - University (NEW)
13. Best Sustainability Project Awards - Hospital (NEW)

1. Corporate Sustainability Report Awards

Outstanding Corporate Sustainability Professionals Award

Award Explanation:


The award is bestowed to commend individuals who have made outstanding contributions and are exemplary in their efforts to fulfill corporate social responsibilities and promote the company's sustainable development.

Evaluation Criteria:



Corporate Comprehensive Performance:
"Top
10 Domestic Companies Sustainability Model Awards"; "Top 10 International Companies Sustainability Model Awards"; "Top 50 Taiwanese Companies Sustainability Performance Awards"
Award Explanation:


The awards in this category commend senior executives for their clear values, principles and visions for corporate sustainability, as well as their establishment of clear governance frameworks and objectives, ensuring the integration of sustainable strategies into corporate operational notions and implementing corporate governance, environmental protection, and social harmony; deploying the supply chain management; actively integrating global sustainability issues with innovative practices, company operating strategies and core capabilities; implementing corporate sustainability deeds, and showing the results of the company's financial and operational growth performance.
Best Practice Awards:
Evaluation based on "Selection Index Content Statement" (30%) and "Best Practice" (70%).

Growth Through Innovation Award
Award Explanation:


This award encourages companies to regard innovation as their important mission, establish innovative capabilities and effectively integrate these innovations into product and service systems. The company must be able to collaborate with customers to cooperatively develop and innovate, and establish close relationships with their upstream and downstream suppliers and partners to achieve common growth goals. Besides the innovation and development of new products and services, other innovative values affecting the company's internal and external environment, as well as in key sales markets and customers should be created.

Evaluation Criteria:




Transparency and Integrity Award
Award Explanation:


This award is divided into two major components: transparency and integrity. The first evaluates a company's degree of disclosure for corporate governance procedures, thereby establishing fair and objective practices; the latter evaluates the extent to which companies fulfills their commitments to corporate governance, as well as their means and clarity in disclosing negative information.

Evaluation Criteria:



Supply Chain Management Award
Award Explanation:


This award follows the GRI G4 standards for corporate sustainability in supply chain management operations, with the aim of encouraging corporate senior management levels to set sustainable supply chain management strategies and clear objectives; determine guidelines for selecting suppliers; establish supplier risk/impact assessment mechanisms for a comprehensive description of the supply chain and relation changes between the company and the supplier; grasp actual or potential negative effects and impacts of suppliers, to then consider whether to provide supplier guidance or to terminate contracts; inform corrective action and provide streamlined activities to ensure business operation stability and continuous performance growth.

Evaluation Criteria:




People Development Award
Award Explanation:


This award follows the GRI G4 and CSR FOR HR (Cohen, 2010) standards for staff related activities, while referring to the 2014 SAP Integrated Report (IR) regarding staff development. Founded in Germany, SAP is one of the largest software corporations in Europe, and their research indicates that the corporation's staff development index metrics directly affect the earnings and profitability. For example, every 1% change in the corporation's health index affects the percentile of women in senior management positions, employees' commitment and participation, and customer loyalty, thus influencing the earnings and profitability.

Social Inclusion Award
Award Explanation:


This award follows the Social Inclusion Principles for Australia published by the Australian Government, referring to the company's responsibility to include in their operational strategies measures designed to meet the needs of disadvantaged groups as clients and customers through supply end business models, incorporating them in the value chain. The model should therefore aim at fostering core corporate objectives and visions of shared inclusivity values, ensuring mutual benefit between the company and society needs.

Evaluation Criteria:




Supplement:
1. The 2nd evaluation criteria should explain how to use corporate competency to solve social problems.
2. The 4th evaluation criteria should improve the institutional performance and provide as many details as possible regarding the government's, media reports and beneficiaries' response.
Creativity in Communication Award
Award Explanation:


This award follows The Materiality Report assessment framework published by AccountAbility (2006), while using the IABC Strategic Creative Communication evaluative framework. Besides considering innovative corporate communication methods, this selection focuses on communication effectiveness, evaluating how creative these methods affect stakeholder engagement and incorporating the PDCA management cycle to ensure continuous improvements. (Refer to the AccountAbility official website: www.accountability.org)

Evaluation Criteria:


Supplement:

For the 3rd evaluation criteria, please express the communication effectiveness in a quantitative way or by comparing the progress with a previous period or year.

Gender Equality Award
Award Explanation:


This award follows the 7 action principles adopted by the UN Global Compact for Women's Empowerment Principles, aiming to encourage measures for corporate promotion of equal employment: avoid workplace gender stereotypes resulting in workplace gender discrimination; provide a friendly workplace environment while ensuring the health, safety and wellbeing of all employees; include community actions and promotional outreach for gender equality within and outside the corporation.

Evaluation Criteria:




Supplement:
1.
The 1st evaluation criteria also refers to the principles of equal opportunity, tolerance and non-discrimination.
2. The 2nd evaluation criteria refers to ensuring the health, safety and well-being of all employees, and strengthening the education, training and career development of female employees.
3. The 3rd evaluation criteria includes the promotion of corporate development plans, supply chain management and marketing methods that are conducive to improving women's abilities and rights.
4. Please provide the gender ratio of directors, supervisors, managers and employees (graph over the course of several years).
Climate Leadership Award
Award Explanation:


This award follows the "Climate Change Project (CDP)" evaluative framework, which encourages corporate greenhouse gas emissions monitoring and management, reducing therefore climate change impacts and deploying investment risk concepts for emission reduction efforts. It also influences supply chain companies to undertake carbon information disclosure and emission reduction, as well as to transform from a passive to a pro-active approach.

Evaluation Criteria:


Supplement:
1. Please provide the total amount of greenhouse gas emissions (graph over the course of several years).
2. Please provide the percentage of green electricity used over the course of several years.
3. The 4th evaluation criteria Climate Change Risk Management should feature Mitigation, Adjustments, Objectives, Timeline, Measures and Performance.


Sustainable Water Management Award
Award Explanation:


This award recognizes proactive corporations that actively establish climate change and water resource supply and demand assessment and responsive measures, implement water resource management and adaptive plans, construct sustainable and safe water system facilities, disclose water footprint and reduction performances; promote green economy and industry, as a reference point for stakeholders.

Evaluation Criteria:

Circular Economy Leadership Award
Award Explanation:


This award is modeled after Australia's "Banksia Leadership in the Circular Economy Award", which encourages and recognizes corporate efforts that develop the economy while protecting and preserving natural resources, optimizing resource reutilization, emphasizing recycling, enhanced recycling, alternative business models, closed-loop management, innovative applications in commercial models or technologies, generating substantial economic, environmental, and social efficacy throughout the supply chain.

Evaluation Criteria:


Information Security Award (NEW)

1. Award Explanation:

This award follows the information security awards evaluation indicators of various well-known domestic and international institutions, aiming to: encourage corporations to strengthen the corporate information security awareness; enhance information security technical capabilities; integrate and strengthen information security management systems, to continuously monitor and review management performance while implementing the concept of information security management and business continuity.
2. Evaluation Criteria:



3. Supplement:
1. The 1st evaluation criteria includes "Information Security Management Policies"; "Human Resources and Staff Information Security Management and Compliance"; "Supplier Information Security Management and Performance".
2. The 2nd evaluation criteria includes "Online Security Control"; "Information Asset Management"; " Security Access Control"; "Physical and Environmental Security".
3. The 3rd evaluation criteria includes "Operational Safety and Daily Information Security Management"; "Information Security Incident Notification Management"; "Constant Management Operation".
Best Sustainability Project Awards - University

(NEW)



1. Award Explanation:
Universities serve the role of fostering new talents, thereby fulfilling the following social responsibilities: making good use of school resources; assisting local development; proposing possible innovative solutions; becoming a local sustainable development coordinator to exert a positive social influence. This award encourages universities to apply, including those who have implemented the Ministry of Education's USR Practice Program. These programs may include but are not limited to "local care"; "industrial promotion"; "environmental sustainability"; "health promotion".
2.
Evaluation Criteria: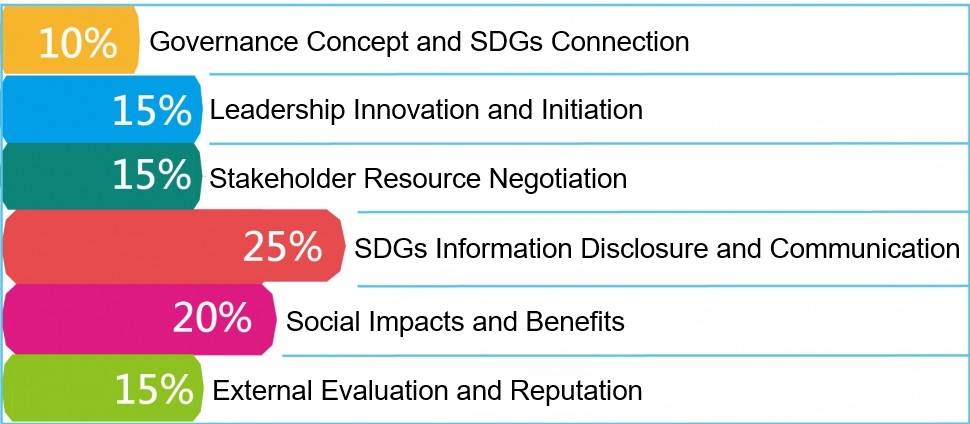 Best Sustainability Project Awards - Hospital

(NEW)



1.
Award Explanation:

According to the 2006 WHO self-assessment manual, a "Health Promoting Hospital" is defined as: a hospital that not only provides high-quality and comprehensive medical and nursing services, but also develops a corporate identity that is closely integrated with health promoting goals; develops health promoting organizational structures that include participation between patients and employees. The "Best Sustainability Project Awards –Hospital" aims to reward domestic medical hospitals for their health promoting spirit and development of medical-related sustainable programs that promote international or domestic community medical care, providing a friendly and respectful healing environment for patients as well as preventive health and integrated care services.
2. Evaluation Criteria: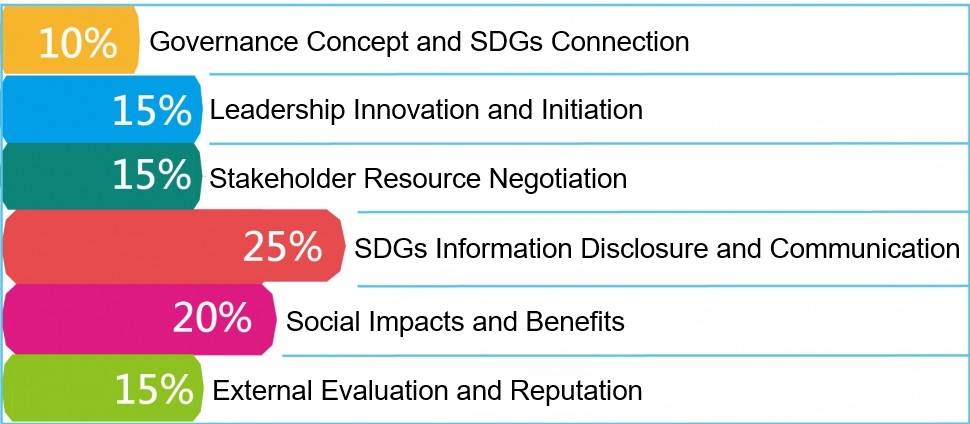 Corporate Sustainability Report Awards
Assessing Corporate Sustainability Reports information disclosure, credibility and communication effectiveness (65%), and online corporate social media information disclosure (35%).
Assessing Publishing of Corporate Sustainability Reports (65%):


(1) Evaluating report disclosure of corporate information, including validity and detail, transparency, practicality, and communicative functions.

(2) Assessment framework has no restrictions.

(3) Judging follows the international standards of the GRI G4, Standards Guidelines and ACCA Awards criteria.

Criteria:




Assessing corporate online social media information disclosure (35%):




(1) Corporate Social Responsibility (CSR) sustainability information disclosure website status.

(2) Website maintenance of information accessibility, transparency, timeliness, completeness, and interactivity status.

Criteria:






2020.3.16 Updated