Recruitment Process and Assessment
If you would like to serve as a volunteer judge, the following requirements must be fulfilled:
1. Complete the "2021 Corporate Sustainability Training Workshop" basic and advanced courses, and obtain a certificate of training completion.
2. Complete the online CSR (Corporate Sustainability Report), CS (Corporate Sustainability) knowledge test and online trial evaluation test.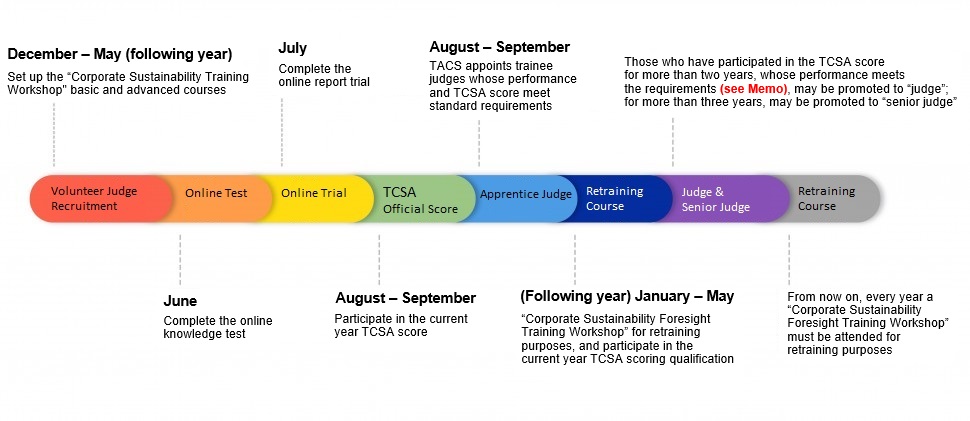 2021 Volunteer Judge Activity Schedule


| | | |
| --- | --- | --- |
| Date | Activity | Remarks |
| June 23th – June 30th | Online Assessment | If the score is under 70, the exam can be repeated every 24 hours |
| July 4th – July 11th | First Trial Evaluation | The written test report and comprehensive performance score which between one of the two companies will pass according to a standard deviation |
| July 15st – July 22th | Second Trial Evaluation | Those who fail the first trial can attempt a second trial |
| August 12th – August 24th | Official Score | Please compare 5-6 reports and 1-2 comprehensive performance score within two weeks |
| November 17th | GCSF/ TCSA Awards Ceremony | Ceremony seats are reserved exclusively for the individual |
[Memo] According to performance regulations: the completion of the reports scores for the award distribution are for the current year. If you have not completed the selection of this award for more than 3 consecutive years (this year included), you must complete the "Corporate Sustainability Training Workshop" basic and advanced courses again.


※The recognition of a volunteer judge's years of service is determined based on the year in which the actual scoring is completed. If one year's selection is not completed, that year cannot be calculated. (e.g. If the "trainee judge" completed the selection in 2015 and 2017, but did not complete the selection in 2016, they will be recognized as a trainee judge for 2 years.)
※The event process is subject to change according to the organizer. All changes will be announced on the event website.