Taiwan Sustainability Action Award
We praise the achievements made by various fields who create extraordinary works and contribution to pursue United Nations' 17 Sustainable Development Goals.
Environmental sustainability: Accomplishment of enhancing environment quality, providing a model for general public.
Inclusive society: Stimulation of societal inclusion activities with establishment of reproducible model.
Economic development: Effective economic growth innovations of successful model.
Enterprises with great "Performance Description(30%)" and "Best Action Plan(70%)." The selection of ESG aspects is according to the followings:

---

Outstanding Sustainability Youth Award
In order to compliment the individuals who are committed to fulfilling their social responsibilities and promote the organization's work towards sustainable development.

---

Sustainability Comprehensive Performance

We provide "Top 10 Taiwanese Companies Sustainability Model Award," "Top 50 Taiwanese Companies Sustainability Award," and "Sustainability Comprehensive Performance Award."

This category of award is aiming to compliment company executives with value and vision of corporate sustainability which possess clear management structure and goals. With the implementation of integrating sustainable strategies in corporate development ideas.
Examination content:

(1) Taiwan Corporate Group
(2) University Group: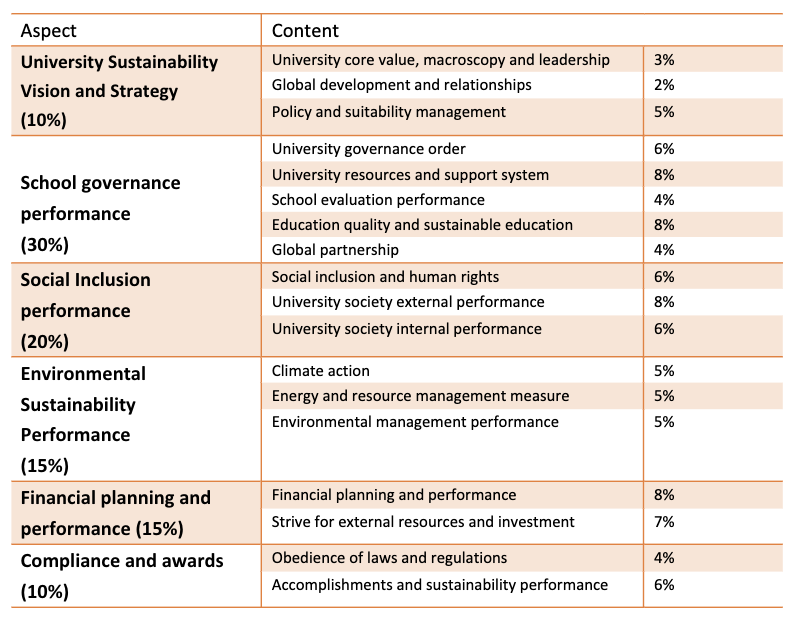 (3) Foreign company group: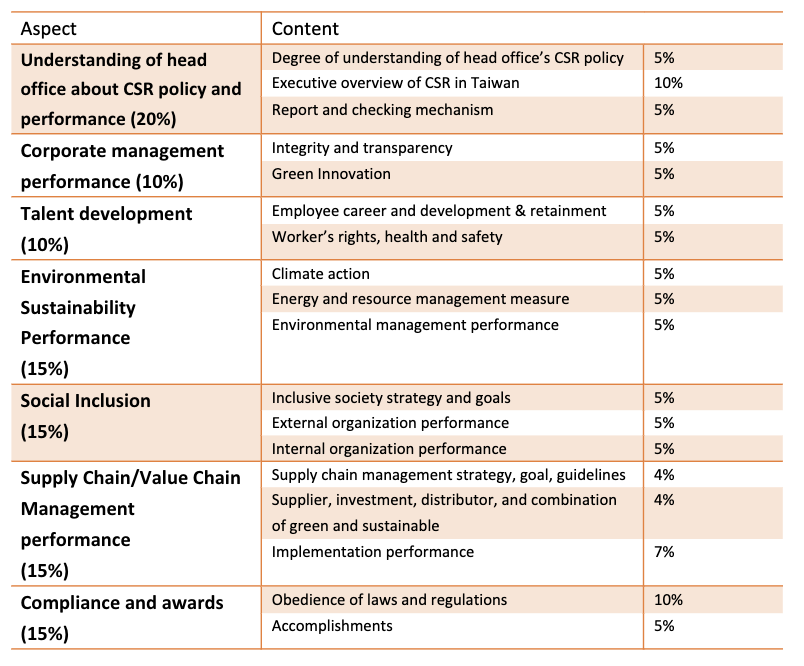 ---
Sustainable Individual P
erformance
We set up 12 iconic

awards to ev

a

luate

"How corporate describe their performance," aiming to perform the symbolistic and leading status of each section.
Sustainable Environment (E)
E-1 Climate Leadership Award
We encourage corporate to participate in international initiatives, such as SBTi, CDP, TCFD, RE100 etc., which are benchmarking with pioneer position. Results focus on conducting measurement and greenhouse gas emissions management in order to mitigate the impact of climate change. The concept of investment risk carries out corporate greenhouse gas information disclosure, actual reduction and adjustment actions.


E-2 Water Resource Leadership Award
We encourage corporates setting up climate change and water resource supply & demand assessment and strategy, implementing water resource management and adaption plan. With water supply security system and facilities, disclosing water footprint and using reduction performance and promoting green economic industry.

E-3 Circular Economy Leadership Award
The Water Resource Leadership Award is based on Ellen MacArthur Foundation and Banksia Leadership in the Circular Economy Award from Australia. We encourage corporates develop economic growth under limited natural resource, optimizing resource utilization on supply chain, recycling, designing alternative business model, etc. Application of innovative business models and techniques to benefit economy and society.


S-1 Human Right Leadership Award
The Human Right Leadership Award refers to internationally recognized human rights standards, such as "United Nations Guiding Principles on Business and Human Rights," "The Ten Principles of the United Nations Global Covenant," and the "Code of conduct of the responsible Business Alliance." It aims to encourage companies to promote human rights protections and provide workplace-friendly environment and other measures to protect the health, safety and well-being of all employees.



S-2 Supply Chain Leadership Award
The Supply Chain Leadership Award refers to the GRI standards for the requirements of sustainable supply chain management of enterprises. The purpose of this award is to encourage the senior management of the enterprise to formulate sustainable supply chain management policies and specific goals, setting the criteria for selecting suppliers and establishing impact evaluation mechanism. With sound description of supply chain characteristics and relationships


S-3 Social Inclusion Leadership Award
The Social Inclusion Leadership Award is according to the Social Inclusion Principles for Australia, published by Australian government. With the goal and vision of establishing social inclusion.



S-4 Gender Equality Leadership Award
The Gender Equality Leadership Award refers to the 7 actions principles of Woman's Empowerment Principles from United Nations Global Compact. The purpose is to encourage corporate promoting employment equality, avoiding gender stereotypes in the workplace which contributes gender discrimination in the workplace. Ensuring male and female employees' health, safety and welfare with the combination of community action and gender equality promotion.



Organizational Governance (G)
G-1 Information Security Leadership Award
The Information Security Leadership Award refers to domestic and global organizations' information security award's selection index. Integration and intensification of information security system, strengthening corporates' information security awareness and enhancing technical capabilities.



G-2 Growth Through Innovation Leadership Award
The goal of the Growth Through Innovation Leadership Award aims to show innovative ability from company's managing culture and product service. The innovation results that effectively integrate product and service system, helping companies build close connection with suppliers, customers and partners. Innovations take place not only in product and service, but also creating other values in key markets and its customers.



G-3 Transparency and Integrity Leadership Award
The award is divided into transparency and integrity dimensions.



G-4 Talent Development Leadership Award
The Talent Development Leadership Award is according to GRI, Standards, and CSR FOR HR (Cohen, 2010) which proposed actions and viewpoints related to talent development. SAP's research shows that the company's talent development-related indicators are related to the company's surplus and profit. One percentage of the corporate health culture index not only affects the proportion of female management, employee commitment and participation, and customer loyalty, but also affects earnings and profits.


G-5 Creative Communication Leadership Award
The Creative Communication Leadership Award refers to the Materiality Report published at Accountability (2006), utilizing Strategic Creative Communication structure with the help of IABC to assess the effect of communication. The evaluation is based on creative communication methods with the performance of stakeholders' engagement, and the recycling management according to PDCA. (reference: www.accountability.org )


---

Corporate Sustainability Reports Award


CSR awards are classified into "Sustainability report or Society Responsibility report" and "Government agencies voluntary local review" categories.
CSR reports from

corporates, u

niversit

ies

,

medical centers governmental organizations:
Assessing information exposure integrity, credibility, communication effectiveness. CSR reports content (65%) and Media application and content quality (35%)

CSR reports content (65%):

- We assess corporate information disclosure situation based on veracity, transparency, reality and communication

functionality.

- There is no limited form of report.

- According to ACCA Awards criteria, we evaluate report by three aspects: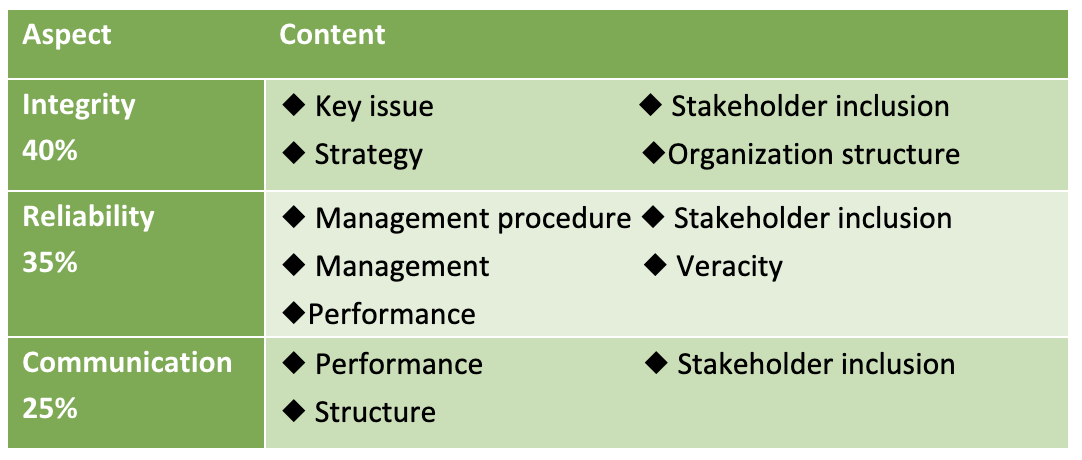 Media application and content quality (35%)

1. Disclosure information on official website about corporate responsibility and sustainable information

2. The accessibility, transparency, immediacy, integrity and interactivity of the information on the maintenance on website.

3. Newsletter: connectivity and interactivity
---
VLR reports from government agencies(institutions)
Assessing integrity of information disclosure, reliability, communication effectiveness: governmental agency's VDR and VLR (85%) and media application and content quality (15%).
Governmental agency's VDR and VLR (85%):

Integrity, clarity, transparency, communication functionality of report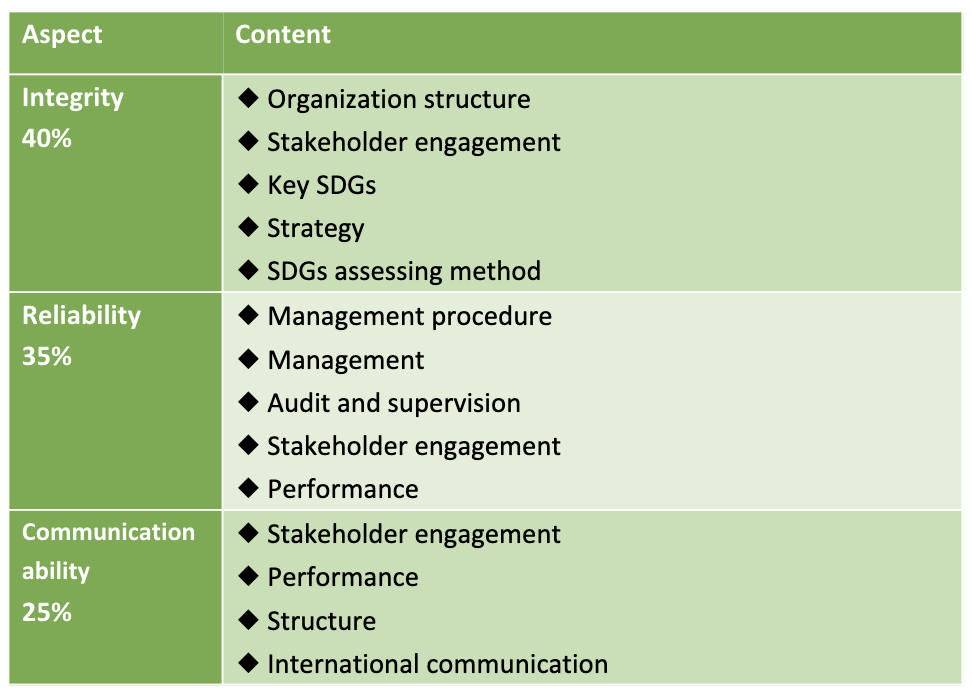 Media application and content quality (15%)

1. Sustainability information disclosure on website.

2. Website maintenance: accessibility, transparency, informative, integrity and interactivity.

3. E-reports activity and interconnectivity.