2018.05.14
The 2018 Taiwan Corporate Sustainability Awards are underway!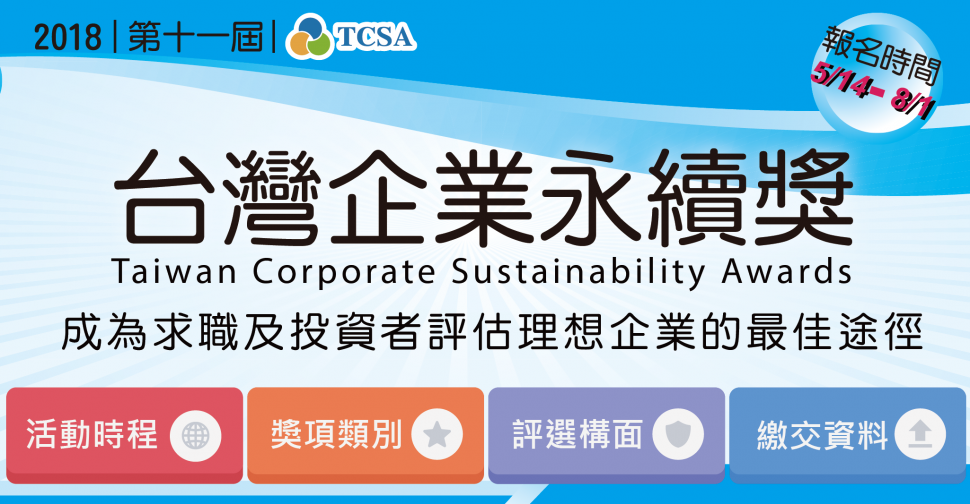 The Taiwan Corporate Sustainability Academy is hosting the 2018 TCSA Taiwan Corporate Sustainability Awards, with registration open now through August 1. The TCSA to date have had 209 participating corporations, with total annual operating income constituting three-eighths of Taiwan's 2016 GDP, and rightly earning the epithet "Taiwan's Corporate Sustainability Oscars", indicating the widespread recognition and significance that corporations place on the TCSA in the field of Taiwan corporate sustainability. This year will also feature the newly added English Reportage Award and the Gender Equality Award, and Taiwan and international corporations are welcome to participate in these highest honors for corporate sustainability.
The TCSA include four main categories for the Corporate Comprehensive Performance Award, Best Performance of Specific Category, Corporate Sustainability Report, and The Outstanding Corporate Sustainability Professionals. To ensure the judging for the TCSA are fair, honest, and open, since 2016 we have developed a volunteer judging system; in 2017 we invited 261 volunteer judges and 88 experts and academics, for a massive total of 349 judges participating in the judging, and we expect this year to exceed over 500 volunteer judges participating in the TCSA judging.
The Chief Convenor of the TCSA, Chairman Eugene Chien has remarked that in recent years responsible investing has emerged as a leading trend, and major international funds and investment entities are placing a strong emphasis on CSR precepts, with seventy percent of investors strongly considering corporate CSR performance, while the data indicates that CSR efficacy and corporate profitability are highly correlated. Additionally, according to manpower firm surveys, the greater a company's CSR performance, the more appealing the company is to outstanding talent, as corporations which emphasize CSR will achieve strong corporate governance and care and concern for their employees, providing employees with higher work satisfaction and attractiveness, so advanced CSR corporations have already become the top choices for new job seekers. If your corporation desires to become an ideal enterprise for job seekers and investors alike, participation in the TCSA is the ideal path to expressing your CSR performance.
The TCSA are open for registration now through Wednesday, August 1, and the Judging Guidelines are available online at the official website (tcsaward.org.tw), so if you have any questions please feel free to contact the TCSA Awards Secretariat (telephone: 02-2768-2655). We most sincerely welcome Taiwan's corporations, international corporations, government agencies and hospitals, and universities, colleges and schools, and other not for profit enterprises and organizations to join in competing for these highest corporate sustainability honors, while jointly working to promote corporate social responsibility, as we endeavor hand in hand to move toward our sustainable future together.
Appendix 1: Registration Flowchart
Appendix 2: Award Categories Registration