2016.11.21
Corporate Sustainability Could Help Economic Downturn
The Ninth TCSA announced prize-winners for all awards these days, there are four categories for this Awards. The "Corporate Comprehensive Performance Awards" that recognize corporate's sustainability performance, the "Best Performance of Specific Category Awards" recognizes corporate's performance on specific category, the "Corporate Sustainability Report Awards" praise corporates with high quality sustainability report, and the newly set up "The Outstanding Corporate Sustainability Professionals Awards" praise the model high rank manager with outstanding contribution and led their corporates with sustainability management.
According to FSC the average of all corporate's EPS that published CS reportage are 2.45 NTD in 2015 it is higher than average of all listed corporates (2.03 NTD), this indicates corporates with sustainability management gains profit more than those didn't do so. The 2015 EPS of "Ten Most Sustainable Company Awards" prize-winning companies are listed below (in NTD). As the chart shows most of them performed well, this indicates sustainability performance is a good way to solve problems of economic downturn.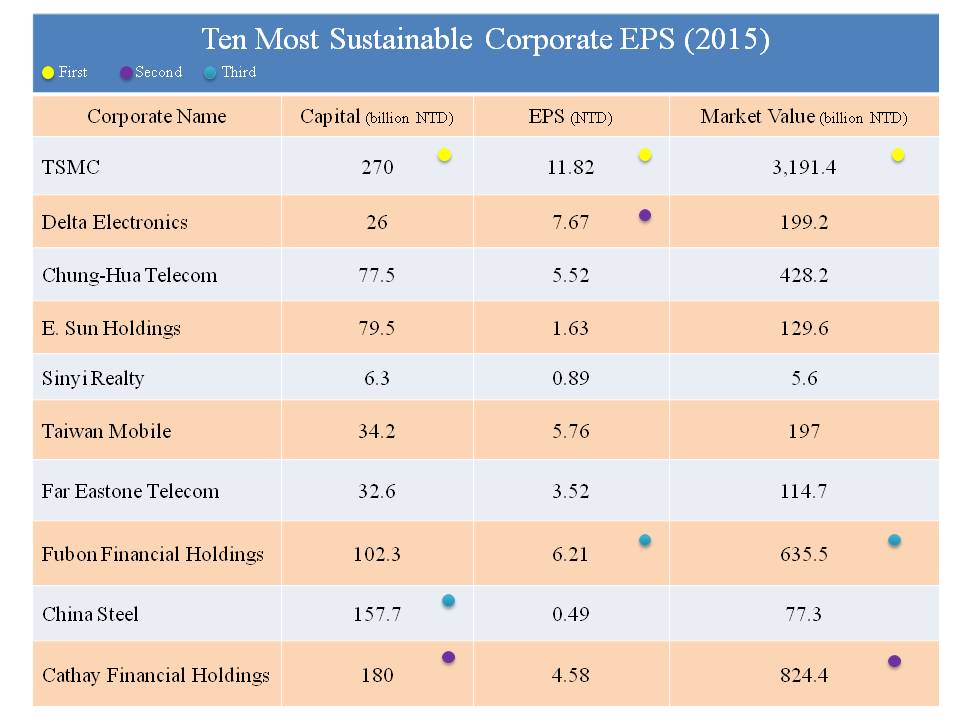 According to TACS's data, the average EPS of "Ten Most Sustainable Company Awards" are 4 times higher than average of all Taiwan's listed companies' EPS. It is very commendable since last year with traditional manufacturing and realty industry having bad depression and many corporate's with negative profits gain, all these awarded corporates were able to gain even more, shows the positive impacts of corporates doing sustainable management. The 2016 TCSA Ceremony will be hold on Wednesday November 23rd, 2016. TACS welcomes everyone to witness this honorary moment for many outstanding corporates. For additional information please visit official web site of TCSA (tcsaward.org.tw).