2023.01.04
[Taipei Times] TAISE announces Taiwan's 2022 Top 100 Sustainability Exemplary Awards
TAISE announces Taiwan's 2022 Top 100 Sustainability Exemplary Awards
The Taiwan Institute for Sustainable Energy (TAISE) in November announced the results of last year's Comprehensive Performance of Enterprise Sustainability — Top 100 Sustainability Exemplary Awards, which fall under the Taiwan Corporate Sustainability Exemplary Awards.
A total of 424 entrants, including 48 universities, 21 hospitals and 20 government agencies, vied for the award. The total revenue of all participating companies in 2021 was NT$36.13 trillion (US$1.18 trillion).
Over the years, 581 companies have applied for the award, accounting for 76 percent of the market value of listed companies in Taiwan. This reflects that sustainable development is a universal value.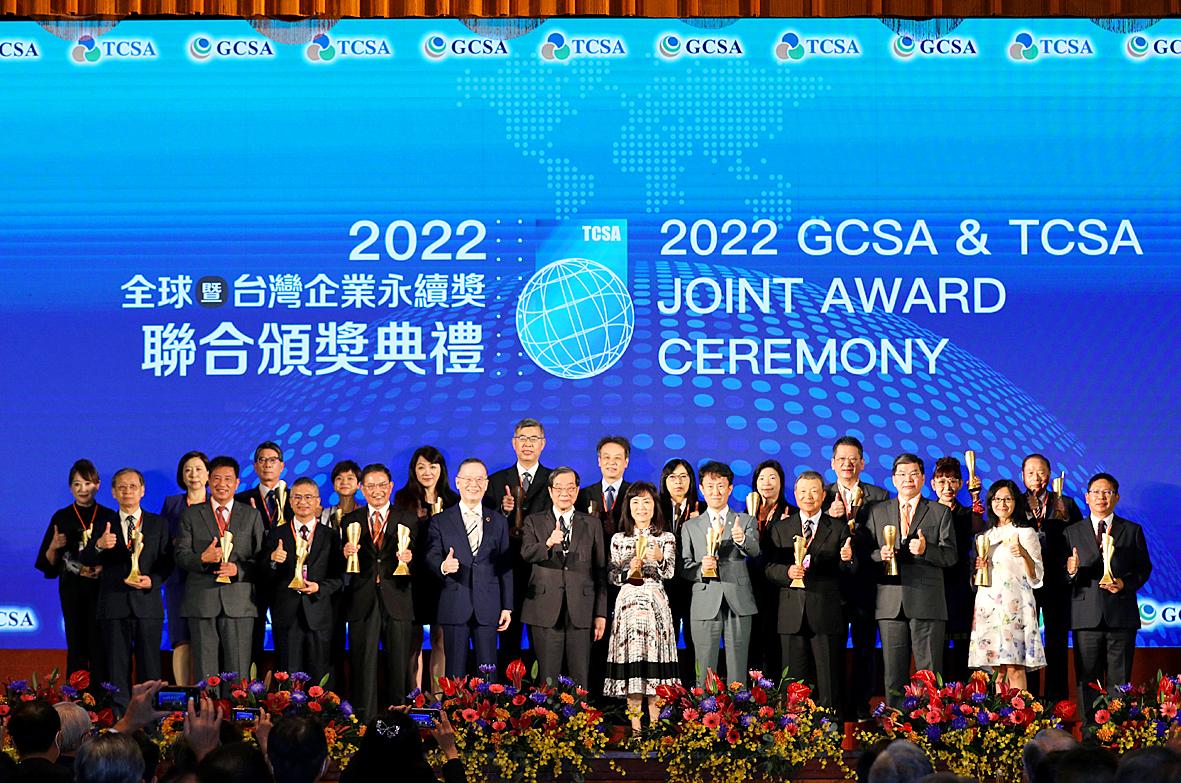 2022 GCSA & TCSA Joint Award Ceremony :Congratulations for all Winners.
TSMC and E.Sun FHC retain first prize in the Taiwan top 10
Taiwan Semiconductor Manufacturing Co (TSMC, 台積電) ranked first in the manufacturing group for the seventh consecutive time.
To mitigate damage to the climate, TSMC has made every effort to implement measures to reduce carbon dioxide emissions. It has set short, medium and long-term goals to reach net zero emissions by 2050.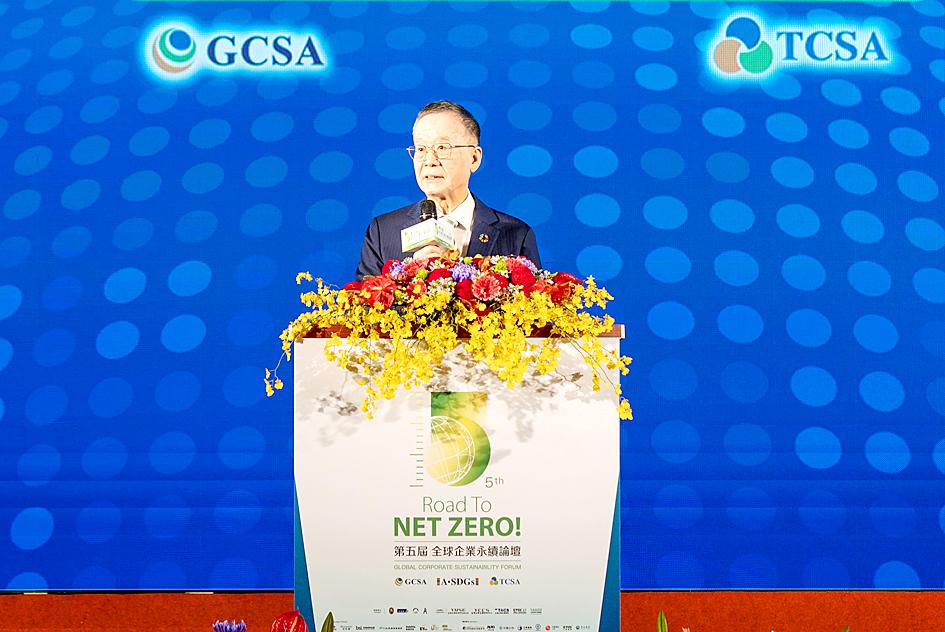 Chairman Ambassador Eugene Chien, encourages companies to collaborate and pursue the UN SDGs vision.
E.Sun Financial Holding Co (E.Sun FHC, 玉山金控) claimed first place in the service industry group for a second time. E.Sun FHC plans to continuously pursue environmental, social and governance (ESG) goals by implementing the "CSOP" (culture, strategy, organization and people) operation and management measures.
It strives to implement best practices in reducing greenhouse gas emissions and is the first company in Taiwan's financial industry, and the second in Asia's, to have passed the Science Based Targets initiative review.
Hon Hai and Yuanta FHC among the top 10 for the first time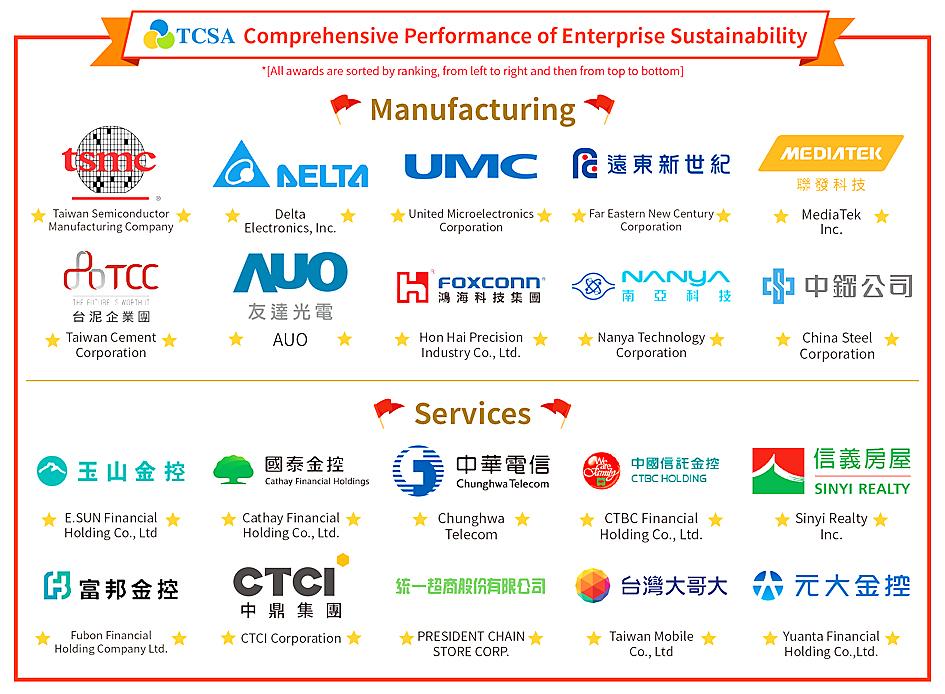 ESG Investment Options:Taiwan companies with the best ESG performance.
Hon Hai Precision Industry Co (鴻海精密) offers a maternity allowance with childcare subsidies for Taiwanese employees with children under the age of seven to help boost the birthrate, and 90 percent of its employees return to their jobs after they have a child.
Hon Hai has also committed to achieving net zero carbon emissions in offices in Taiwan by 2030 and manufacturing plants by 2050.
Yuanta Financial Holding Co (元大金控) practices sustainable development in terms of corporate governance, customer rights, employee care, environmental sustainability and social welfare.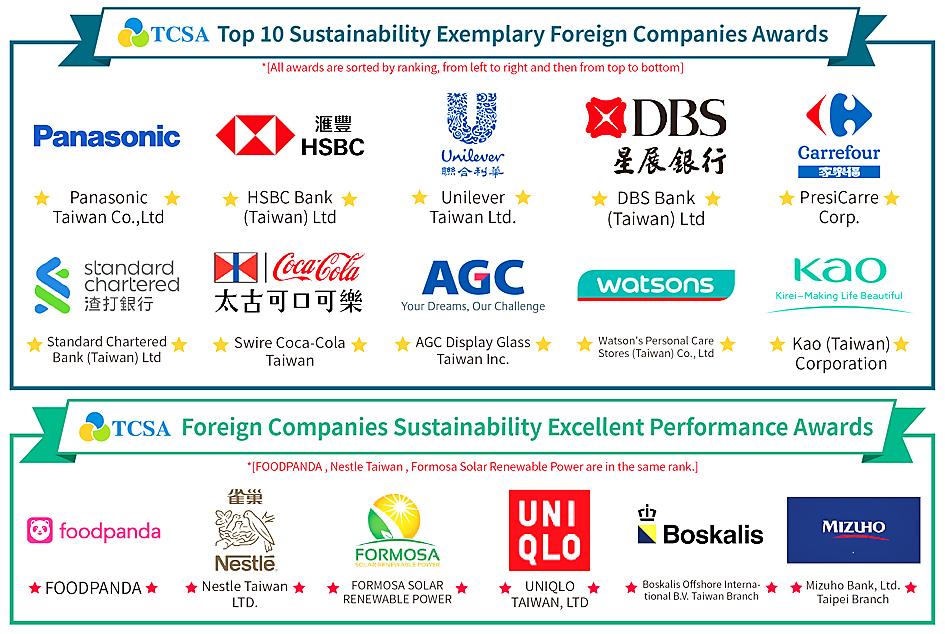 International companies with the best ESG performance in Taiwan.
During some of the worst episodes of the COVID-19 pandemic, Yunta not only donated NT$160 million to first responders in the medical system, but also implemented rigorous health and safety management measures to become the first company to receive ISO/PAS 45005 certification for COVID-19.
China Steel returns to the top 10
China Steel Corp (CSC, 中鋼) set up the China Steel Energy Conservation Carbon Reduction and Carbon Neutrality Promotion Group under the board of directors' corporate governance and sustainability committee to implement energy conservation, carbon reduction and greenhouse gas emissions controls to mitigate its impact on the climate and environment.
CSC aims to achieve a 7 percent reduction in emissions by 2025, a 22 percent reduction in emissions by 2030 and carbon neutrality by 2050. It remains committed to ESG development to promote its Corporate Governance 3.0 — Sustainable Development Blueprint.
The comprehensive performance of foreign companies
The Comprehensive Performance: Foreign Companies Awards were also revealed in November after a highly competitive selection process.
The general convener of the awards, Ambassador-at-Large Dr. Eugene Chien (簡又新) announced that 10 international companies from Japan, the UK, the Netherlands, Singapore, Germany, Luxembourg, Switzerland, France and Hong Kong participated in the competition.
ESG criteria were evaluated during the selection process based on Understanding and Execution of CSR Policies, Corporate Governance Performance, Qualified Personnel Development Performance, Environmental Protection Performance, Social Inclusion Performance, Supply/Value Chain Management Performance and Recognition of Outstanding Achievements.
The Top 10 Sustainable Exemplary Foreign Companies Awards were selected by reviewing briefings.
The auditing committee highly appreciated foreign companies' efforts to invite local communities to work together to change society.
For example, Carrefour's Store-Community CSR Sponsorship Program is an employee-initiated, volunteer program that encourages staff to familiarize themselves with their local community and to care for disadvantaged local groups.
Panasonic Taiwan is committed to reducing carbon dioxide emissions, working toward the goals of carbon neutrality by 2030 and "Energy Used < Energy Created" by 2050.
Meanwhile, HSBC Taiwan promoted anti-epidemic donations to fulfill corporate sustainability responsibility during COVID-19 last year, while Unilever Taiwan is committed to promoting a fairer and more socially inclusive world, and strives to create opportunities for small businesses and disadvantaged groups to ensure they are ready for the changing future.
TCSA
The TAISE foundation has been holding the "Taiwan Corporate Sustainability Awards" (TCSA) for the past 15 years and organizing corporate sustainability report seminars to provide domestic companies with a platform for information exchange. TCSA has driven the CSR trend and guided corporate sustainable development in Taiwan. In 2016, the TAISE foundation established the "Taiwan Corporate Sustainability Institute" to promote the selection process for these awards.
TCSA Website https://tcsaward.org.tw/en/main
Criteria
Echoing the UN's promotion of enterprises' commitments to the SDGs (sustainable development goals), TAISE continues to actively promote these values across different sectors including hospitals, universities, and government agencies. TAISE also encourages domestic enterprises in achieving international standards harmonization. These awards comprehensively assess CSR and environmental social governance (ESG) performance with open and transparent methods, norms and evaluation criteria conforming to international standards.
Taipei Golden Eagle Micro-movie Festival (TGE Festival)
#The Largest sustainable movie Festival in Taiwan
Sustainable development related to our common future, however it's too complicated and wide to catch up with the latest trend. It's even harder to put it into practice in our daily lives. To overcome this barrier, TAISE holds TGE Festival to motivate the organizations to transit the sustainable outcomes into readily comprehended, and interesting Micro-movies. We hope to use the internet and multimedia to spread the sustainable awareness. Accelerating the society transformation to a more sustainable world.
TGE Festival Website (in Chinese): https://tge.taise.org.tw/