亞太永續行動獎-亞太永續行動獎 大學組:金獎
淡江大學學校財團法人淡江大學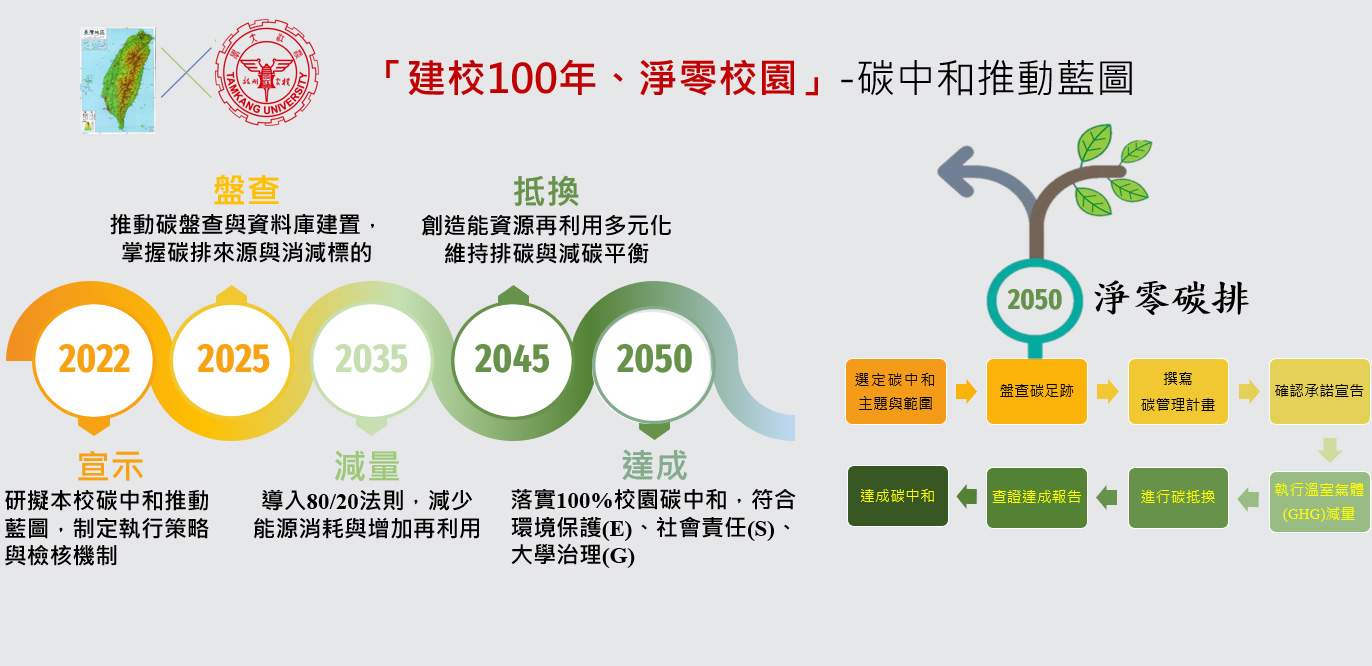 Reducing Carbon Emissions, Revitalizing Environmental Sustainability
Climate change is threatening the planet with food shortages, water shortages, economic instability, extreme heat, rising sea levels, flooding, and diseases inclusive of major pandemics; it is a crisis that is affecting every facet of society, and universities, as well as other public and private institutions, need to be as proactive as any other institutions are in tackling climate change. Tamkang University (TKU) is striving to meet the challenges of climate change and be in the vanguard of that effort. In keeping with the Paris Climate Agreement, the United Nations Sustainable Development Goals, and the commitment to environmental protection that other higher education institutions are forging, TKU is setting itself a goal of achieving net carbon emissions by 2050. The task requires systemic changes and a significant investment in cost-effective energy and water use. The task also involves joining hands with local communities to implement environmentally sustainable practices. TKU calls these practices, "Reducing Carbon Emissions and Revitalizing Environmental Sustainability."
In order to reduce carbon emissions and revitalize environmental stability, Tamkang University must and already is undertaking numerous projects. They include examining the roles and core competencies of other higher education institutions in the area of environmental sustainability and projecting a "sustainable campus" according to three major commitments 1. Environmental sustainability education; 2. Support for practices of green living; and 3. Facilitation of environmental sustainability communication among stakeholders. In keeping also with the Environmental, Social, and Governance (ESG) guidelines, TKU is determined to build an environmentally-friendly campus, contribute to society by offering access to high-quality education in energy and water use; and be a model of good governance by designating competent regulatory bodies to integrate internal and external resources and abide by specific goals and practices.
The results of Tamkang University's sustainability principles and practices to date include formal recognition and validation by certifying organizations at home and abroad. In the 2021 Taiwan Corporate Sustainability Awards, TKU received awards in the Sustainability Action and Sustainability Report categories. In the 2022 Times Higher Education Impact Rankings, TKU ranked 21st in the SDG7 (Affordable and Clean Energy), 69th in the SDG6 (Clean Water and Sanitation), and 101st-200th in both the SDG11 (Sustainable Cities and Communities) and SDG12 (Responsible Consumption and Production) categories. Since 2003, TKU has passed the annual international certification for the ISO 14001 environmental management system. For three consecutive years, from 2011 to 2013, TKU was awarded the "National Enterprise Environmental Protection Award." In 2020, a total of seven USR projects involving environmental sustainability were approved by the Ministry of Education for implementation. In 2021, TKU won the "Excellent Awards for Green Procurement Units" issued by the Environmental Protection Bureau of the New Taipei City Government. This was the sixth time TKU won this award in a seven-year period (2015-2021).
Global warming is a problem that the entire world is facing, and although a single school, enterprise, or country cannot turn the tide of global warming a combined effort by educational facilities, businesses, and other social bodies and organizations can mitigate the worst impacts of global warming. That effort must not be delayed or deferred. The alarming rate at which the planet is warming makes the effort of paramount importance. It includes calling on more people and groups to participate in environmental sustainability action initiatives. Tamkang University is participating in those initiatives by setting an "AI+SDGs=∞" guideline as its environmentally sustainable development guideline. This formula refers to using and applying AI technology to meet sustainable development goals (SDGs) and make TKU a greener campus. In June 2022, TKU signed an MOU with Far EasTone (FETnet). This is part of a strategic alliance to build a "5G Metaverse Net Zero Emissions Campus" at TKU, and it involves implementing Big Data, IoT, AI, Cloud Computing, and other technologies at all levels in all areas of the university—in learning, teaching, research, administration, life community, campus security, and so forth. This alliance and the projects under it will help ensure that TKU marches surely and smoothly towards its 2050 net-zero carbon emissions target.