亞太永續行動獎-亞太永續行動獎 企業組:銀獎
鴻海精密工業股份有限公司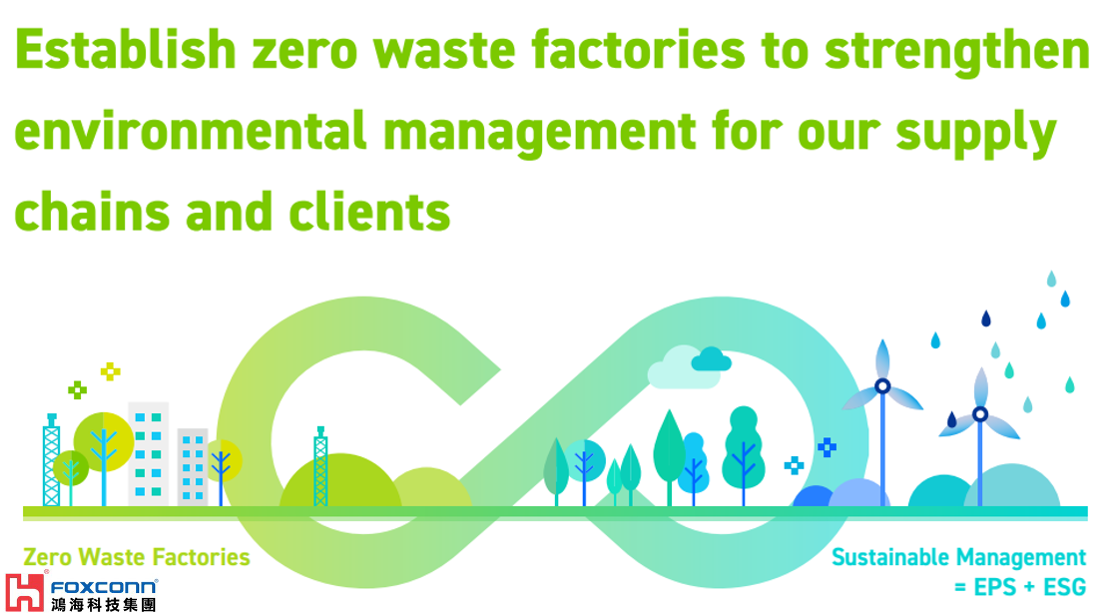 Promoting Environmental Sustainability – Establish Zero Waste Campuses
Responding to United Nations Sustainable Development Goals (SDGs) Goal 12- Responsible Consumption and Production, and following Hon Hai's core sustainable management = EPS + ESG. It is imperative for Hon Hai to promote environmental protection, and has formulated two strategies of Green Solutions and Circular Economy in Environment. Among them, circular economy has three specific goals to improve the efficiency of resource use. "Zero waste" policies have become one of our most important strategies.
Hon Hai's waste management strategy is to continuously reduce the amount at the source, maximize the recycling of resources, and make the terminal treatment harmless, and replicate the experience of the Longhua Zero Waste Park and promote it to other factories around the world. Hon Hai's goal is to obtain at least 5 campuses with UL2799 Gold-level certification of zero waste by 2025, with the waste conversion rate of 100% and an upper limit of incineration rate of 10%.
Hon Hai Longhua Campus awarded UL 2799 Gold-Level Certification of Zero Waste to Landfill Operations, the world's 1st comprehensive eco-park. In addition, in 2021, the Group's Hengyang Campus and Kunshan Campus in mainland China have both obtained UL 2799, the Highest Platinum Rating for Zero Waste to Landfill in name of one single campus and legal entity.