2020.10.22
Results and Analysis of the 2020 Taiwan Corporate Sustainability Awards (TCSA)
Results and Analysis of the 2020 Taiwan Corporate Sustainability Awards (TCSA)
Author: Assoc. Prof. Yung-Shun, Shen
Secretary-General, Taiwan Corporate Sustainability Awards

1. Statistics of the Number of Companies entered into the Evaluation Over the Years

The number of companies joined the evaluation process over the years has shown a steady increase, with an average increase of about 20% per annum. This year (2020), 252 enterprise registered, seeing an increase of 55 companies compared to the previous year (197). The cumulative number of companies that have joined the selection has reached 364, accounting for about 50% of all the local companies that have published CSR reports. Compared to the number of companies that have joined the selection in 2008, there has been a 22-fold increase in 13 years. Their total revenue of those companies is 145% compared to Taiwan's GDP in 2019. The companies that have entered are mostly large-scale companies by nature and exert a greater influence on the social and corporate environment.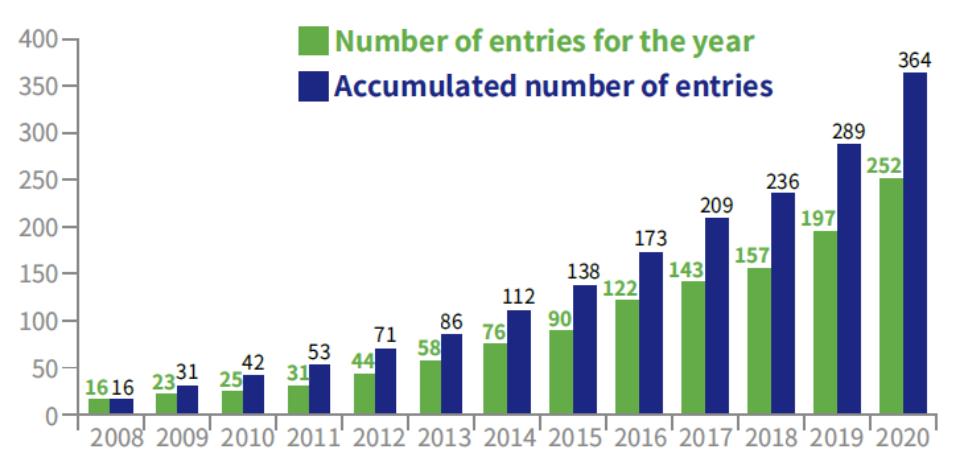 2. Categories of Awards Companies Have Entered

In this year's TCSA evaluation, four award categories are distributed: "Corporate Comprehensive Performance" to encourage companies in executing sustainable performance, "Best Practice Awards" of specific categories (13 items), "Corporate Sustainability Report" for transparent disclosure of information, and "The Outstanding Corporate Sustainability Professionals Award" to recognize individuals with special contributions in and commitments in promoting sustainable development. The local companies awarded with outstanding performance results, published outstanding corporate sustainability reports, and outstanding professionals highlight Taiwan's sustainability model companies. Among the 252 participants entered, 192 entered the CSR Report Awards (148 companies under Category 1 with its capital exceeded NTD$6 billion and 44 companies under Category 2 with its capital less than NTD$6 billion). In addition, 50 companies registered for the English version Sustainability Reporting Awards, while 93 entrants (including 80 Taiwanese companies, 8 foreign companies, and 5 universities) registered for the Comprehensive Performance award. For the Best Sustainability Practice Awards (a total of 401 cases), a higher number of participants have entered the three categories: Social Inclusion (64 entries), Growth through Innovation (58 entries), and People Development (48 entries). Information Security Award is a new category this year, which received the attention of the companies. A total of 24 companies registered. They responded to the global issue of sustainable development through action. The total number of entries reached 743 cases, with a growth rate of 25%.
To encourage more universities and hospitals to participate, the Best Sustainability Project Awards - University was established to inspire universities in promoting social responsibility implementation plans, effective use of education resources, and engage with local initiatives. Best Sustainability Project Awards- Hospital encourages hospitals to the international and local communities/remote area public healthcare practice, healthcare for elderly, family and social care, and mental counseling. A total of 29 universities and 14 hospitals entered with 37 cases and 23 cases entered, respectively. The extraordinary social influence on local universities and hospitals are brought to light for people from all sides.

3. Nationalities of Companies
Majority of the entrants are Taiwanese companies this year accounting for 95.6% overall with 11 foreign companies accounting for 4.3% of all companies. In response to the stakeholders' demand, the parent companies of a majority of multinational companies worldwide publish corporate sustainability reports at a global local and include a summary of the operation in each region. However, since the award emphasizes on the disclosure of operations in Taiwan, few foreign companies' branches or subsidiaries in Taiwan publish reports for Taiwan. Nevertheless, compared to the previous year (2019), the number of companies has increased by one. TAISE will continue to encourage foreign companies in Taiwan to actively disclose sustainability information and commit to sustainable practices in all fields. In addition to fulfilling the parent company's vision from an international perspective, those with outstanding performance are expected to become models for local companies.





4. Industrial Category and Scale

The industry classifications are based on the 19 categories of industry listed by the Directorate General of Budget, Accounting and Statistics. The result shows that finance and insurance industry, accounting for 22.2%, followed by the traditional manufacturing industry (20.2%), electronics parts manufacturing (11.9%), and education service industry (11.5%). The rest of the 11 industries account for less than 10%. The results show that the companies that have entered into the award are under a diverse range of industries. It is evident that the award has captured wide attention of local companies from different categories. Since the establishment of TCSA, the finance and insurance industry has been the most active in participation among the local industries, in terms of quality advancement of sustainability report, participation in advocating sustainability issues, and participation of training by CSR practitioners. The industry sets a model for all the industries. In addition, among the companies entered, there are 132 Taiwan Stock Exchange (TWSE) listed companies (52.4%), 20 Taipei Exchange (TPEx) listed companies (7.9%), and 100 unlisted companies (including NGO/NPO) (39.7%).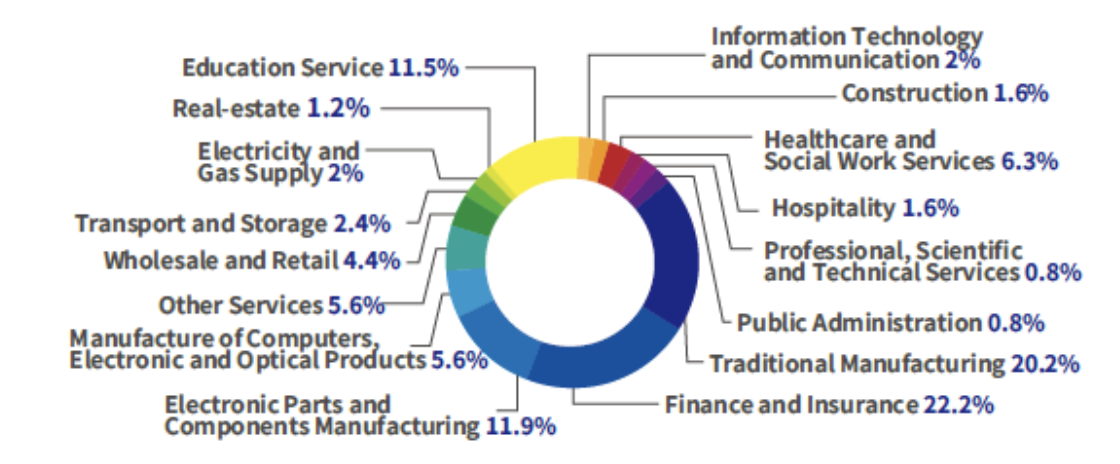 5. Updates on Applications of GRI Standards and Assurance Standards

The percentage of companies that adopt the GRI Standards for CSR report and assurance by a third party is an important indicator of sustainability information disclosure in the country or region in accordance with the international standards. Among all the companies entered this year, 182 companies applied GRI Standards (94.8%), and three companies used GRI G4 (1.6%). It is evident that the percentage of local companies applying international standards into their sustainability report is relatively high, which is higher than the international average (approximately 65%), Taiwan is among the top compared to other countries. Overall, the CSR reports of the award entrants' selection are high in quality. The reason for the increase in application of GRI Standards is that GRI Standards completely replaced GRI G4 since July 1, 2018 following their official publication on October 19, 2016. The percentage of award entrants that had assurance by a third party has reached above 88% (169 companies). Among those entrants, 129 adopted AA1000 and 40 adopted ISAE 3000, accounting for 67.2% and 20.8%, respectively. The percentage of adoption for both shows a limited difference compared to last year (2019), but the number is still higher than the international average (approximately 50%). AA1000 remains the main CSR Report assurance standard used locally at present. If the Financial Supervisory Commission R.O.C. (Taiwan) extends the assurance requirement in target groups and scopes in the future, the adoption of ISAE 3000 application is expected to increase.
Among the entrants of the award, 75 (29.8%) companies entered the award for the first time, which has nearly doubled in number compared to last year (53, 26.9%) showing a significant increase in percentage. Under the trend of the future mandatory requirement of Financial Supervisory Commission R.O.C. (Taiwan) requiring companies to publish CSR
reports and expanding the scope of its coverage, it is expected that the number of new entrants will continue to increase.

7. The Status of Sustainability Award Recipients and Comments
Corporate sustainability information disclosure of companies entered the Award are good in quality overall, which is evident based on the fact that nearly 70% (69.5%) of the companies are TCSA Reporting Awards-Platinum and Gold recipients. Although the large companies have accumulated considerable experiences in CSR reporting techniques, materiality analysis, qualitative and quantitative presentations of texts and charts, with outstanding achievements, the local companies' report quality has reached the international standards. In addition, the majority of the companies' CSR reports
have shown great improvement in handling the disclosure of material issues, displaying corporate performance, and transparent disclosure in cases of misconducts, presentation of ESG performance, and other techniques. In addition, the percentage of local companies responding to UN Sustainable Development Goals (SDGS) in their CSR reports have increased significantly. However, the depths of such responses vary. Those which are more advanced are outstanding in their business strategies, design of plans, and performance display. The companies' online audiovisual interactive design and presentation on their CSR website page have improved compared to previous years, meeting the standards of local reporting and foreign company website design. However, the planning and operation of the CSR webpage still need further improvement. Based on the overall performance of award participants this year, the main areas that can improve
(1) Improve on descriptions of the short-term,middleterm,
and long-term goals of sustainable governance strategies, as well as the management approach and implementation of material issues.
(2) Provide detailed statements on the relevance between corporate sustainability vision, business strategies, as well as the SDGs and how they can be
(3) Provide detailed explanation on the relevance between innovative products and services with financial performance.
(4) Strengthen the strategic CSR mentality by applying company's core technology and products to formulate plans and demonstrate performance.
(5) Plan the model of partnership with the supplier in seeking for mutual growth and strengthening the disclosure of information pertaining to sustainable supply chain execution effectiveness.
(6) Disclose climate change risks and adaptation practices
(7) Improve companies' CSR webpage in its settings, design, and enhance its communication through utilizing multimedia applications.
8. Model Practices for Comprehensive Performance Award
Among the local and foreign companies participating in TCSA Comprehensive Performance Award, after the preliminary and secondary round of evaluation, 16 companies from manufacturing industry and 17 companies in service industry were shortlisted for the final. These companies competed for the Top 10 Companies Sustainability Model Award. Since the companies shortlisted are well performed in both written report and presentation, the review was completed by the panel according to the criteria after rigorously evaluation of their performances in different categories. The highlight of the winners is summarized for reference by companies participating in the future.
1.Integrate SDGs companies' business guidelines, and corporate sustainability strategic blueprints, along with comprehensive plans and performance indicators further present with overall performance.
2.Adopt international forefront standards or guidelines (such as SBTi, SROI, TCFD, etc.). Being invited to and participate in global substitutability initiatives (such as CDP、RE100、EP100, etc.) with outstanding performance and continue to promote
3.Selected as component stocks for international and local Corporate Sustainability Index (such as DJSI, RobecoSAM, MSCI, FTSE4Good, FTSE4Good TIP TW ESG Index, TWSI Index, etc.), as well excellent CSR performance evaluations by local institutions such as TCSA, CommonWealth Magazine Group, Global Views, and other institutions.
4.Excellent performance (TOP 5%) in corporate governance evaluation by the Taiwan Stock Exchange (TWSE).
5.Scope 3 greenhouse gases are included in the corporate greenhouse gas survey and reduction report. Encourage or insist suppliers to conduct greenhouse gas information disclosure or reduction; strengthen companies' climate risk assessments and promote adaptation plans.
6.Response to international environmental issues (such as ocean waste, etc.), produce sustainable products through a circular economy innovative model, with significant environmental and social Benefits.
7.Apply 5G, big data, AI, internet and other emerging technologies in sustainable projects to enhance execution benefits.
8.Link SDGs-driven KPIs with remunerations of board directors and employees.
9.In addition to sustainability reports, the Total Impact Measurement and Management (TIMM) and Integrated Report (IR Report) have also been published. These are reported to the board regularly to improve corporate sustainability governance standards. Financial Supervisory Commission R.O.C. (Taiwan) has imposed the mandatory policy to four types of
companies and companies with capital exceed NT$5 billion in publishing CSR reports since 2015. This has led to a significant increase in the number of CSR reports over the past four years. The Institute held TCSA over the past years with numerous training and events, positive results have been shown from those efforts This is a result of the public and private partnership in response to the trend of sustainability worldwide. Taiwanese companies demonstrated Taiwan's competitiveness. Companies will have more awareness and render more efforts in sustainability under the impact of global CSR trends, which will have a positive impact on Taiwan's international image. Financial Supervisory Commission R.O.C. (Taiwan) released the Green Finance Action Plan 2.0 in August 2020. It is expected that through the financial mechanism, companies and investors can be guided
to focus on environmental, social, and corporate governance (ESG) issues, facilitating a cycle between investments and industries' pursuit of sustainable development. Through public and private partnership, Taiwan's carbon reduction and sustainable development goals will be achieved. Financial Supervisory Commission R.O.C. (Taiwan) released the "Corporate Governance 3.0-Sustainable Development Roadmap" in September the same year with the 5 key focuses: "strengthening duties and functions of boards," "enhancing information transparency," "Strengthening communication with stakeholders," "Encouraging stewardship of institutional investors and "Deepening a corporate culture of sustainable
governance." It is the expectation of all that the Financial Supervisory Commission R.O.C. (Taiwan) engages in implementations in order to synchronize with international financial management markets' management trends and further improve the overall local corporate sustainability standards.